Where you 50 years ago this week?  I know that many of you hadn't made your appearance in the world yet but many, like me may remember very clearly.  I remember it not because it was the week the Richard M. Nixon was reelected president although that was a significant event.  His reelection efforts featured the infamous Watergate break-in and all the subsequent shenanigans that led to a constitutional crisis and the only time in our country's history when a president resigned from office.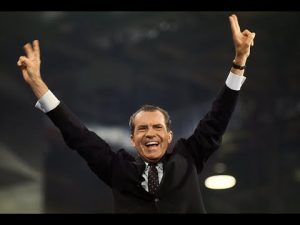 I remember it very clearly because as a 12 year old boy I walked the aisle of the First Christian Church of Garnett, KS and gave my life to Jesus Christ.  It was during a revival meeting and I remember how nervous I was throughout the service.  I knew before the service started that I was going to make this decision but I was still very nervous.  As the music and sermon wound down, I remember the preacher asking if there was anyone who wanted to become a Christian.  I did but I sheepishly started down the aisle.  Before I knew it, the preacher had taken my confession to faith and I was preparing to be baptized.  As I stood in the waist high deep water, the curtain was opened and I was baptized into Christ.  Once raised from the water I quickly changed my clothes and found a warm group of the congregation who stayed after to wish me well.  I went home thinking about what all this would mean for me as I, a 12 year old boy, lived my life for Jesus Christ.
I think back on the snapshot in my memory of that event and have mixed feelings.  Part of me, now 50 years later, marvels at how God's Spirit has led me to grow and permitted me to experience some very amazing things as I have followed His lead.  Part of me thinks about the struggles that 12 year old boy had and still has even 50 years later.
Today, I find myself serving God by being a Pastor in one of His congregations.  I have grown to discover that I wasn't alone in my journey forward from the baptismal waters.  We each have victories and challenges that mark the history of our lives.  God isn't through developing any of us who have chosen to follow Him and I have the privilege and duty to model and speak God's truth, not only for my own spiritual benefit, but for the benefit of many.  What an awesome but often overwhelming responsibility!
I like the fact that God included baptism as an integral part of how He brings us into His Kingdom.  I will never forget the fear, the wetness, the stained glass window in the baptistry, and especially the conviction I felt to make this decision.  Of all that stands out to me about that event, it is the conviction to live for Jesus that outshines them all.
Lately, as I reflect upon my life, I am grateful for this season that includes an increased appreciation of God's Word and desire to better know Him through prayer.  Day by day God seems to be leading me back to  where by faith journey began.  Not to the baptistry, but to what that whole experience embodied even though I had no idea at the time what all it meant.  To be made clean, indwelled by the Holy Spirit, and being a part of His family have grown to where almost daily He is showing me more and more of what it means to follow Him.  He has led me through victory and defeat, hurt and healing, grace and grace and even more grace.
Now, as a man with less days ahead of him than behind him, I am sharpening my focus on Kingdom things.  Time has always been limited but getting older makes that point even stronger.  I want to finish the race well and let others see God's grace in me.  I want to hear Him say "well done" even if no one else does because over the years He has been teaching me that only He can fill the voids of my life.
For me the journey started 50 years ago.  What about your journey as a Christ-follower?  How has He been guiding you and what has He brought you through?  I hope you will take some time to reflect upon the day you decided to follow Him and keep on keeping on with the days He gives you.