Me and Ms. Camille are currently engaged in a battle at the parsonage!  Before your mind wanders too far into what we might be battling, let me be clear.  We are not battling each other but instead a common enemy!  WEEDS!  You probably gave a sigh of relief.  Weeds are everywhere and if you are going fight weeds you better be prepared to do it for the long haul.  Weeds are relentless and some seem beyond control.  Fighting weeds, some say:  why bother because you can't win!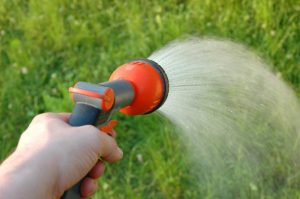 Well, actually, you can, sort of!  But, it will take a strategy, lots of effort and a long view.  I am not an expert on yards and I am not really very talented when it comes to all things green. But, I do know a little bit about God's good earth and what He says about advancing the Kingdom, on earth as it is in heaven.  (You just knew I was going to bring this blog back to that!)
First, you must devise a two pronged strategy:  plant new grass and kill the weeds.  If you don't do both simultaneously you won't be very successful.  Again, I am no expert but past experience has shown me that healthy grass with a sound root system will eventually choke out many weeds.  Also, if you only focus on killing the weeds, you will inadvertently kill some of the existing good grass.  This will leave you with nothing but a patch that somehow the weeds will invade with even greater intensity.  No, you must plant and feed as well seek and destroy!
You will also need to make sure the conditions remain optimum for the new grass as it starts to immerge.  It will be tender and frail.  You also must be prepared for the yard to look really bad for an extended period of time.  Young grass needs to grow and can't be cut as short as we would like.  In the meantime, the weeds continue to thrive and pop up almost as if to say, "look at me!"  It will take lots of patience but in the end, progress will come.  Our yard will probably take a couple of years and even then it will require attention to watch for "sneak attacks" from the enemy.  It is so much easier to maintain a weed-free yard than what we have.  But it will still require effort like reseeding, feeding and water.
The reasons we are undertaking this project are many:
First, we like to walk around in the yard in our bare feet and doing that now would be very painful!  Second, we want to create a pleasant environment that we can enjoy and share with friends like you.  Third, we want to be good neighbors and not wreck any efforts they may be giving to have weed-free yards and maybe set an example for them.  Good stewardship of what we have been entrusted is a value both of us have learned is important.  But probably the biggest reason may be one you haven't considered:  Working in the yard is an apt metaphor, even miniature laboratory, for working within the Kingdom of God.  Let me try and explain:
Jesus has defeated the enemy with His victory over death.  The enemy, though defeated, is still permitted to corrupt God's good earth until the time when Jesus returns to set all things aright forever.  Christ-followers have been tasked with the mission to go forward into God's good earth and announce the inauguration of earth's new King, Jesus and to advance His Kingdom to the entire world.  As we do, we will face resistance and problems but in the end, we shall prevail.  We will encounter all sorts of corruption and distortion of God's good plan.  Perhaps we could see those things as weeds.  Things like:  injustice, addiction, selfishness, perversion, oppression of the poor, poverty, slavery, idolatry, greed, you know, SIN.
Some Christ-followers would argue that to exert effort in these areas is pointless because we will never eradicate these grand problems.  Even Jesus taught that the "weeds" would exist and eventually be destroyed when God sets everything aright.  But don't forget that Jesus also taught His disciples to pray:  "Thy Kingdom come, Thy will be done on earth, as it is in heaven."  And so we labor to advance His Kingdom.  As we deal with the effects of poverty and other "Weeds" we also introduce those we are helping to discover a new King and to come along to His new way of living as a human.  Weed AND Feed.  Even though it will seem impossible at times and even though it sometimes seems like we may take one step forward but two steps backward!  We remain faithful and don't give up.
And so it is with my yard.  A work in progress.  And so it is in the Itawamba Christian Church.  A work in progress.  And so it is in Fulton, MS and Itawamba county and the State of Mississippi and on and on and on until Jesus comes back bringing a final setting to right and vindication for all of us who have been faithful to labor for Him in the meantime.
I think its time for me to get back to the yard!