The other day last week I was going through my daily routine of reading the headlines from my Google news app and ran across an article that really caught my attention.  It was entitled, "People Who Adopt This Powerful 3-Word Habit Have Very High Emotional Intelligence".  I thought to myself, "I want to have very high emotional intelligence however no one ever accused me of having it"!  Also, I wondered what the 3 words were that could possibly become a habit that would produce such a good result.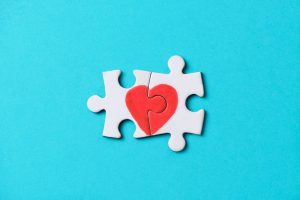 I started off reading the article which, by the way was not found in any kind of theological or biblical journal.  It was found in a magazine called Inc. which apparently is designed to be helpful to people in the business world.  Anyway, I read the article rather quickly and was searching for the magic 3 words.  Finally, I discovered them and frankly I was a little shocked.  The 3 words were:  I, Love and You.  I love you.  I am familiar with these words and you will be happy to know that they frequently find their way coming out of my mouth.  But what seemed odd to me was why a business magazine seemed to be encouraging people to say I love you to every person you meet in order to establish a much better sense of emotional intelligence or appreciation of another human being.
I went back and reread the article.  This time I read it slowly and that is when the bells started going off in my brain.  The author wasn't suggesting that people walk around just randomly saying, "I love you" to any and every person you meet.  They were suggesting that you say these words to yourself about the other person you were about to engage in conversation or just interact with in the every day course of life.  The gist of it is this:  viewing each and every human being we meet with the idea of platonic love as the foundation will only make us more positive and affirming of them.  It will dull our own rough edges as we adjust and instantly celebrate their humanity and worth as such.  I thought this is very interesting on at least a couple of levels.
First, it is refreshing to think that a purely secular magazine would publish an article where love was considered to be so transformational.  It reminded me that people who I'm not sure are approaching life from clearly a place of faith can still able to seek and demonstrate virtue.
Second, it reminded me of the Scriptural mandate that we are to approach both brother or sister in Christ as well as enemies with love.  Of course the key difference  between the secular and the spiritual love is that Christ-followers have the experience of agape, God's love as our basis of loving.
So, after I stopped being amazed at where this idea was coming from I decided to conduct an experiment.  I decided that as I encountered people, whether in a store, in traffic, whatever, I would say to myself "I love you" before speaking to them.  What I noticed when I remembered to do this was a much softer Tony shining through.  I was nicer and much more warmly received.  By literally reminding myself that even some random stranger was in fact someone loved by King Jesus and someone He has called me to love, I was able to be more loving.  The only problem I see with this is that sometimes I forget to say the words as I find myself in the presence of new people.  Learning this new habit will take time and effort.  That's the way habits have always been and will always be.  But I suggest you give this one a try and see if you don't instantaneously see the same response I saw.